I've finally made something out of coconut flour that I love!
I've found that often times using coconut flour, things end up either
too dry, too cakey, or coconut overpowers the taste.
But these are just right, good consistency & taste.
The major factor I believe is chilling these in the refrigerator before you eat them.

There is some debate on weather butter is paleo & I believe it is as long as you get the grass fed butter like Kerrygold's Irish butter, which is what I use in this recipe.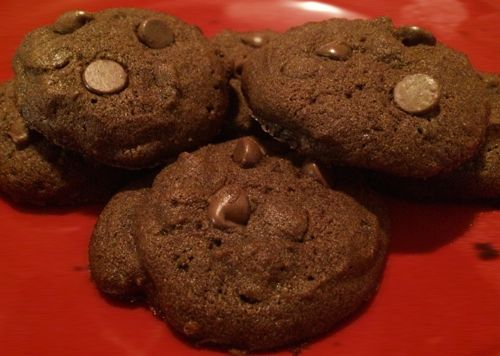 Ingredients
+ 1/3 cup of butter
+ 2/3 cup coconut sugar
+ 3 tbsp coconut flour
+ 1/4 cup unsweetened cocoa powder
+ sprinkle of salt
+ 2 large eggs
+ 1 tsp vanilla extract
+ couple handfuls of Enjoy Life Semi-sweet chocolate chips
Instructions
1. Preheat oven to 350 degrees F.
2. Mix together butter with sugar until slightly creamy
3. Add eggs in slowly
4. Add coconut flour, cocoa powder, salt, & vanilla extract
5. Toss in the chocolate chips and mix into batter
6. Drop spoonfuls of batter about 1 1/2 inches apart onto lined baking sheet.
7. Bake for 10-12 minutes
8. Let cool then transfer to wire rack
9. Once completely cool move them into the refrigerator & wait at least 20 minutes (that's the toughest part!) then grab them out of the fridge every time you want one. I promise it makes a huge difference in taste & texture. (If you like cake-like cookies ignore this last step!)