OK I've been wanting to create an entire post catching up various things including a list of things I've had my eye on however I am quite terrible with time management & my actions have been elsewhere so here is my christmas list... :)
Thing's I've had my eyeball on...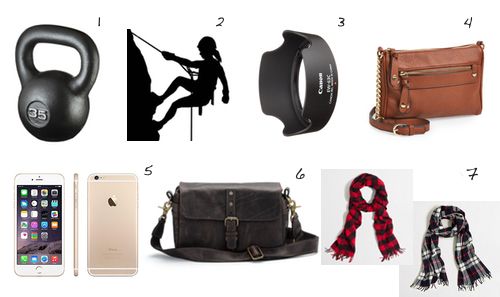 1.
35 lb. Kettlebell
Missing key movements from my workouts this duder could help me with.
2.
Rock Climbing 10-Visit Pass
Winter tends to limit the hiking & trail running I do
3.
Canon Lens Hood
Protection & lens flare reasons...
4.
Simple Crossbody Bag
Could use a small cognac crossbody
5.
Gold iPhone 6s
Hi Dad.
6.
ONA Bowery Camera Bag
It's difficult to find lovely & functional camera bags, these are perfect.
7.
Thick Buffalo & Tartan Scarves
these do not necessarily look thick however these patterns are exactly what I'm looking for